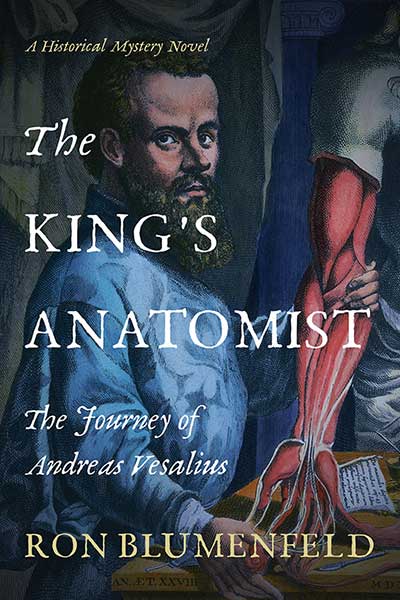 By Ron Blumenfeld
The King's Anatomist
The Journey of Andreas Vesalius
In 1565 Brussels, the reclusive mathematician Jan van den Bossche receives shattering news that his lifelong friend, the renowned and controversial anatomist Andreas Vesalius, has died on the Greek island of Zante returning from a pilgrimage to the Holy Land. Jan decides to journey to his friend's grave to offer his last goodbye.
About The Author
Ron Blumenfeld
Ron Blumenfeld is a retired pediatrician and health care executive. Ron grew up in the Bronx, New York and studied at City College of New York before receiving his MD degree from the State University of New York. After completing his pediatrics residency at the University of Arizona, he and his family settled in Connecticut, but Tucson remains their second home. Upon retirement, he became a columnist for his town's newspaper, a pleasure he surrendered to concentrate on his debut novel, The King's Anatomist. He enjoys a variety of outdoor sports and hiking. He and his wife Selina currently reside in Connecticut and are fortunate to have their son Daniel and granddaughter Gracelynn nearby.
Advance Praise
for The King's Anatomist
A historical novel with a twist. An old friend of the most famous of all anatomists, Andreas Vesalius, sets out to solve the mystery of his death on a Greek island. What he finds involves a tangle of acquaintances going back to their Brussels childhood and earlier dissections. This lively story combines fine historical detail with a sensitive feel for past personalities.
– Vivian Nutton, Hon FRCP, emeritus professor of the history of medicine, University College London
In his imaginatively woven historical mystery, Ron Blumenfeld explores the life of the pioneering anatomist Andreas Vesalius amidst the turbulence of 16th-century Europe. Readers will enjoy a finely-tuned story infused with doses of Renaissance anatomy and art that highlight the groundbreaking achievements of Andreas Vesalius in these two linked disciplines. Blumenfeld's erudite adventure leaves the reader with tantalizing speculations.
– Philip Eliasoph, PhD, Professor of Art History & Visual Culture, Fairfield University, Fairfield, Connecticut
With The King's Anatomist, Ron Blumenfeld has successfully crafted a story from disparate elements. Descriptions of Renaissance sciences, emerging European cities, and the pre-industrial countryside are intertwined with love gained and lost and the mystery of the death of Andreas Vesalius, the father of modern anatomy. The result is a plot of rich tapestry that leaves the reader panting for the next page, the next vignette along a journey from Brussels to the Greek Island of Zante and along another journey; that from childhood friendship to the grave. As with much fine literature, I was sorry to reach the last page.
– Maynard Paul Maidman, Professor Emeritus of History, York University, Canada
Centered on the mysterious death of the great anatomist Andreas Vesalius, this enjoyable tale is anchored by scholarly literature. The device of a first-person account by an observant but hesitant "best friend" allows for vivid recreation of the many remarkable moments in the anatomist's life. Relying solidly on social and political history, it convincingly evokes the atmosphere of sixteenth-century Europe. The surprising but plausible ending will surely encourage readers to learn more.
– Jacalyn Duffin, MD, PhD, Professor Emerita, Hannah Chair of the History of Medicine, Queen's University, Canada